Greetings from the Representative
Greetings from the Representative 
Welcome to the 10th UNHCR Refugee Film Festival.
We are honored to celebrate the festival's milestone anniversary with you. Our deepest thanks go to all those who supported this event over the past years.
We are happy to see so many of you take an interest every year in the films that depict the stories of the refugees, internally displaced persons and stateless people.
When we first started this film festival in 2006, the number of displaced persons both inside and outside their home countries was estimated at around 40 million. No one could ever have imagined that within ten years this figure would reach almost 60 million. Today, the number of individuals forcibly displaced as a result of persecution, conflict, generalized violence, or human rights violations in the world marks the highest on record. It is also the highest annual increase we have yet to see in a single year.
It is our task to continue raising awareness about these displaced populations for as long as they continue to suffer in parts of the world. Through the medium of film, we hope to foster a better understanding of these key issues.
On this 10th anniversary of the UNHCR Refugee Film Festival, we would like to invite you to commemorate the strength and resilience of the 60 million displaced people throughout the world. As we watch the films, we must ask ourselves; What more can or must be done to help the displaced, the receiving countries and the refugee hosting communities?  Has our solidarity and willingness to provide refuge and protection been sufficient?  Now, more than ever, we must ask; have we done enough?
Please enjoy the films. Thank you.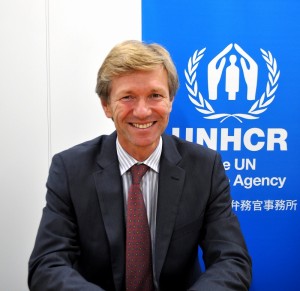 Michael Lindenbauer
UNHCR Representative in Japan