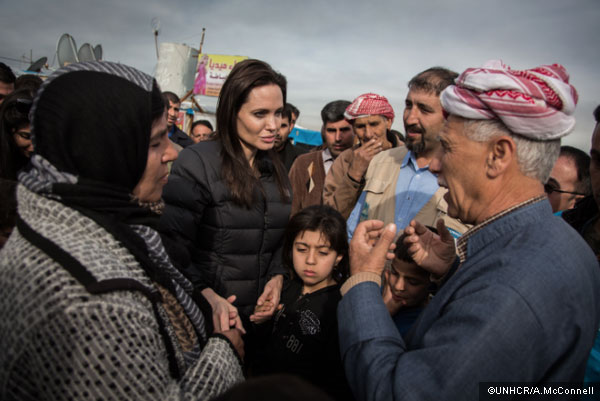 Message from UNHCR Special Envoy Angelina Jolie Pitt
Angelina Jolie Pitt, an American actress and a filmmaker, has been devoted herself in finding solutions to displaced people around the world.
Named a UNHCR Goodwill Ambassador in 2001, Jolie Pitt has carried out more than 40 field missions to some of the most remote regions of the world to highlight the plight of millions of uprooted people and to advocate for their protection.
In 2012, Jolie Pitt was appointed as Special Envoy of UN High Commissioner for Refugees António Guterres. Through this work, she will help contribute to the vital process of finding solutions for people displaced by conflict.
Message from  UNHCR Special Envoy Angelina Jolie Pitt:
I congratulate the Refugee Film Festival in Japan on its tenth anniversary. I hope this year's festival will give many more people the chance to learn about – and celebrate -the strength and dignity of millions of refugee families around the world today.

UNHCR Special Envoy, Angelina Jolie Pitt
More about the work of UNHCR Special Envoy Angelina Jolie Pitt , Please see HERE
PHOTO:Special Envoy Angelina Jolie visited Iraq in January 2015, meeting with Syrian refugees and internally displaced Iraqi citizens in the Kurdistan Region of Iraq.