Prayer of Peace: Relief and Resistance in Burma's War Zones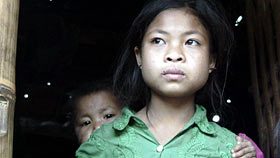 Director: Matt Blauer
Thailand (2007)
Audio: Burmese
Subtitles: Japanese
28 min.
c Matt Blauer
On the front line of conflict deep inside Burma, this documentary follows ethnic relief workers as they aid internally displaced people suffering under the Burmese Army. Focusing on a female medic and a pastor/human rights cameraman, the film reveals a people that have maintained their dignity and hope for peace despite the odds.
- Venue -
Friday, 20th June 19:00 NHK Fureai Hall
« In The Shadow Of The Pagodas: The Other Burma | Top of 2008 Films | JUN-AI »